Dear users,
In appreciation of your continued support, AscendEX will launch the 3rd round of limited-time referral event. By referring friends to register on AscendEX and completing trading tasks, both referrers and referees will be given a chance to share 40,000 USDT worth of rewards and 10 MacBook Pros.
Event period: Apr. 28, 12 AM UTC – May 9, 12:00 AM UTC, 2022
Register to participate.
Event One: Refer Friends to Share 30,000 USDT worth of Rewards
Users who refer their friends to register on AscendEX and meet the following *eligible referral criteria will be eligible to win up to 500 USDT of rewards. The more referrals, the more rewards they can receive. Refer now>>
| | |
| --- | --- |
| Number of Eligible Referrals | Referral Rewards |
| ≥100 | 500 USDT per referrer |
| ≥50 | 200 USDT per referrer |
| ≥10 | 30 USDT per referrer |
Event Two: Join the New User Trading Challenge to Share of 10,000 USDT in Rewards
Newly registered users who maintain a total trading volume of at least 500 USDT will be eligible to share in a 10,000 USDT prize pool based on their trading volume. The higher the trading volume, the bigger the rewards.
| | |
| --- | --- |
| Rank | Rewards/User |
| 1st -10th | 300 USDT |
| 11th - 30th | 100 USDT |
| 31st - 60th | 50 USDT |
| 61st - 100th | 10 USDT |
| 101st - 500th | 5 USDT |
| Other eligible users | An equal share of 1,100 USDT worth of rewards |
Event Three: Win a MacBook Pro in a Lucky Draw
Eligible users for the first two events will be able to join a lucky draw, where 10 users will be selected at random to be rewarded a MacBook Pro each.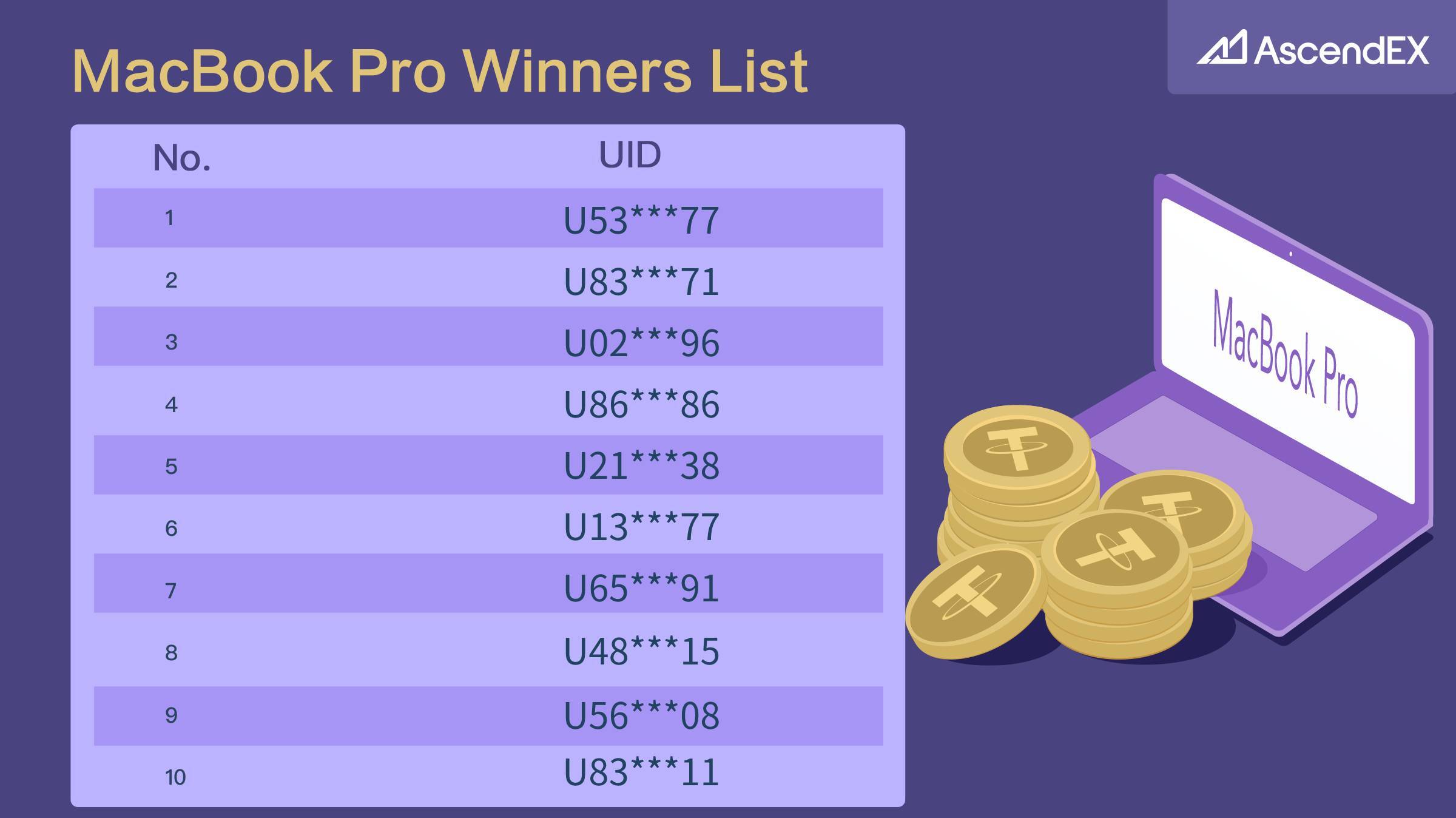 Please note:
1. *An Eligible referral refers the referee who registered on AscendEX via the referrer's exclusive referral link and execute trades while maintaining a trading volume of at least 200 USDT.
2. Cash, margin and futures trading volume (buys + sells) will count towards the event.
3. The first event's rewards will be capped at 30,000 USDT and will be distributed based on the eligible referral rankings. For users with the same number of eligible referrals, the user whose referees posted a higher total trading volume will receive the rewards.
4. The event rewards include the MacBook Pro 256GB. Users who are unable to receive the physical items can exchange the winning item for the equivalent amount of rewards.
5. Sub-accounts cannot participate as an independent account, but their trading volume will be credited towards their parent accounts.
6. The MacBook Pro winners list will be unveiled in the announcement after the event's conclusion.
7. Winners must fill out the registration form and have a verified AscendEX account to be eligible to claim their rewards before the event's conclusion.
8. The rewards for the first two events will be distributed to winners' accounts within 15 days after the event's conclusion; the rewards for the third event will be distributed after the event's conclusion based on the mailing information provided by winners via email.
AscendEX will strictly enforce all the related rules. Any participants found violating AscendEX's rules, such as the use of duplicate or false accounts, will be removed from the event. AscendEX reserves the final rights to interpret and adjust these Terms and Conditions.
Thank you for your continued support!
The AscendEX Team
Website: https://ascendex.com
Twitter: https://twitter.com/_AscendEX
Telegram Group: https://t.me/AscendEXEnglish