Something to remember:
"Progress that is both rapid enough to be noticed and stable enough to continue over many generations has been achieved only once in the history of our species. It began at approximately the time of the scientific revolution, and is still under way."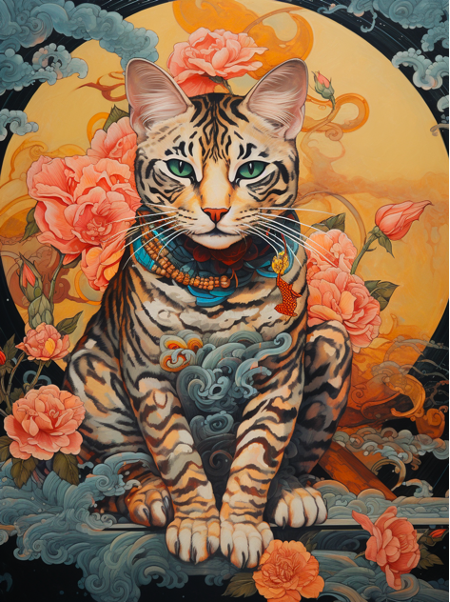 Week Ahead
What's driving markets?
ARK Spot BTC ETF decision gets delayed by the SEC. Consensus is that the SEC will push other decisions as well, lining up for a November/December approval

Core CPI for July comes in slightly low, CME FedWatch prices in 90.5% chance the Federal Reserve keeps rates steady at the next FOMC. Bank of America Research pushes up expectation for final 25bp hike of this cycle to November

As predicted by GC Jim, the SEC has appealed the ruling in Ripple Labs' case that certain XRP sales did not constitute sales of unregistered securities

Paypal received regulatory approval to launch PYUSD, a stablecoin issued by Paxos Trustco
Next ETF decision date: iShares Bitcoin Trust on September 2nd
Catalysts
Wednesday, August 16th @9pm: FED minutes

Thursday, August 17th @3:30PM: Initial Jobless Claims
Major Headlines
The US SEC calls for public input on the Ark 21Shares bitcoin spot ETF application. The SEC brought up four main concerns with the filing: Whether the ETF would be prone to manipulation, whether CME will provide enough liquidity, whether Coinbase will be sufficient for custody and to prevent manipulation, and whether the market is large enough to warrant such an ETF. The final decision on this specific ETF is pushed by 8 weeks, but there are other key dates to watch, with September having decision dates for the Bitwise and VanEck instruments. Market analysts mostly believe that an approval is coming before the end of this year.
Paypal announced its latest foray into the crypto industry on August 10th with the introduction of Paypal USD (PYUSD), a stablecoin backed by US dollar deposits, treasury bonds, and other liquid cash equivalents. PYUSD will launch later this year. Interestingly, Paypal is using Paxos TrustCo. As an issuing partner– the same Paxos that launched the BUSD stablecoin in cahoots with Binance– which was shut down by the SEC earlier this year. Is the SEC trying to play kingmaker?
GC Jim's Take:
SEC does not pre approve products, PYUSD could theoretically still get canned by the SEC

Paypal has probably been talking to the SEC for years about it, the source code is literally old)

BUSD was a different scenario, as the affiliation with Binance raised concerns about backing using crypto assets
Charts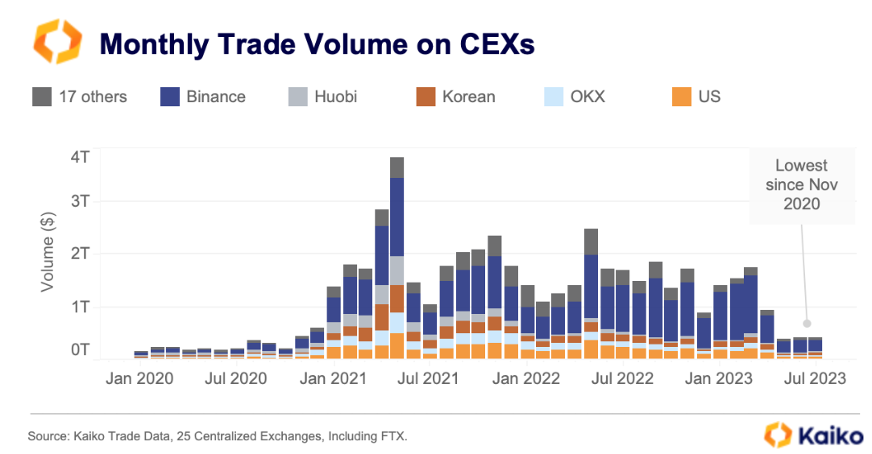 Despite BTC surging by 75%, trade volume has continued to fall in 2023 with nearly all exchanges registering double-digit declines in July relative to the year before. This has been accompanied by a collapse in long-term volatility and suggests overall market participation remains low.

U.S. exchanges (orange) have seen the strongest drop in volume (80% on average).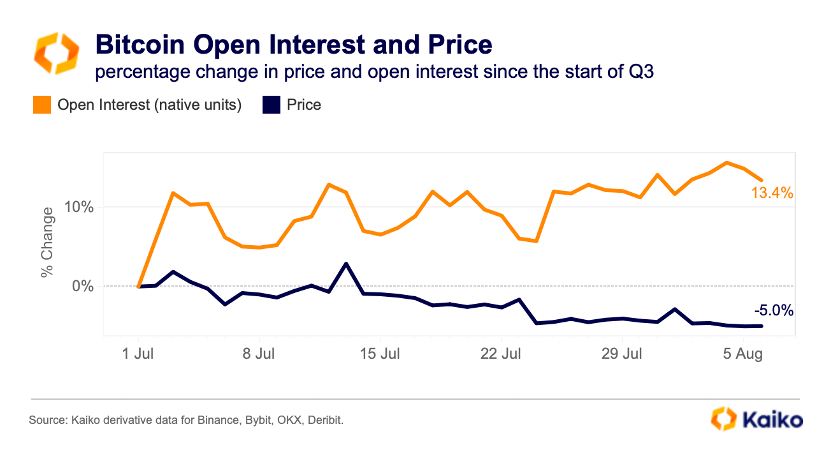 Bitcoin perpetual futures open interest in increased by 13% to 289k BTC since the start of July as spot prices fell by 5% over the same

period. The increase was driven by Binance and Bybit, whose open interest rose 19% and 12%, respectively.

Open interest growth has outpaced volume growth, suggesting a large presence of hedging. Funding rates are at their highest level in the past six months, indicating a positive sentiment in the market.
Bitcoin spot to derivative trading ratio is at all time lows.

Suggests market participants are short-term oriented.
Research Content
Disclaimer: AscendEX and its affiliates do not provide financial, legal, tax or accounting advice. This material has been prepared for informational purposes only, and is not intended to provide, and should not be relied on for, financial, legal, tax or accounting advice. This does not constitute an offer to issue or sell, or a solicitation of an offer to subscribe, buy, or acquire an interest in, any securities, financial instruments or other services, nor does it constitute a financial promotion, investment advice or an inducement or incitement to participate in any product, offering or investment. You should consult your own financial, legal, tax and accounting advisors before engaging in any transaction.
This material is not intended for distribution to, or use by, any person or entity in any jurisdiction or country where such distribution or use would be contrary to law or regulation, or which would subject AscendEX to any registration requirement within such jurisdiction or country. Information provided by AscendEX and other sources in this material is believed to be accurate and reliable when placed in the material, but we cannot guarantee it is accurate or complete or current at all times.