Something to remember:
"The truth suffers from too much analysis"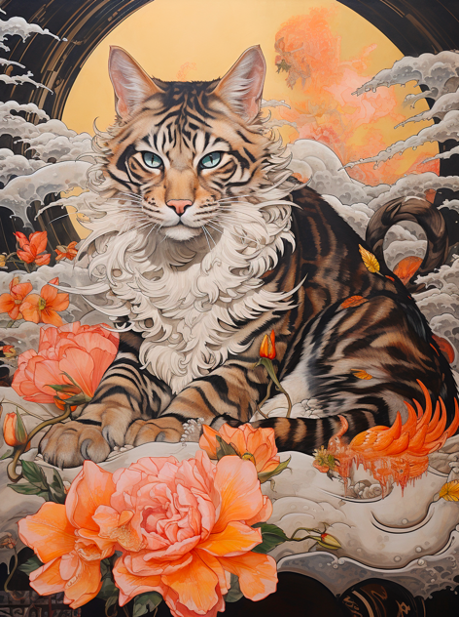 Week Ahead
What's driving markets?
Crypto Market volatility (CVI) remains near multi-year lows. This appears to be the least volatile year in terms of price action in crypto history

Bitcoin (BTC) and Nasdaq spot price correlation at multi-year lows. This week saw Fitch downgrade the US long-term credit issuer rating and a lackluster AAPL earnings report, which dragged down equity markets.

US CPI data will be released this Thursday. This past week, many big banks altered their forecasts to predict the probability of a recession being much lower than previously thought

Ark 21Shares Bitcoin ETF Re-filing date August 13th

Crypto markets are optimistic that a Bitcoin spot ETF is coming before the end of this year. The question is whether markets have accurately priced in the probability of the ARK ETF being approved later this week. Optimistic speculators have been piling into BTC ahead of decision dates, hoping to front run post-launch ETF flows. In addition to the flows themselves, the approval of a crypto spot ETF would be a significant step towards the validation of crypto as an asset class

Catalysts
Thursday 8/10 @8:30am ET: US CPI & Core Inflation Rate

Sunday 8/13: Ark 21Shares Bitcoin ETF Re-filing date
Major Headlines
Centralized Exchanges continue to receive negative attention, as multiple nation states attempt to wrangle Binance International and CEO CZ, and it is widely speculated over the weekend that Huobi execs were arrested by Chinese authorities. CEX Fud is nothing new in crypto, but since the demise of FTX, crypto analysts have cranked up their scrutiny to new heights. Speculation ranges from reasonable to borderline conspiracy theories. Considering that Binance alone accounts for a 50%+ market share of all crypto trading activity, the scrutiny is well deserved.
GC Jim's Take:
DOJ has been considering charges against Binance for at least 2 years for sanctions violations

Criminal charges are a question of when (and what they will be), not if

Binance is likely to pay a record-breaking fine, but the main hinge of the deal will be whether CZ faces jail time as a result of any criminal charges. Binance indicated that they intend to fight if the DOJ tries to put CZ in a cell.
Final Verdict: "Binance is the JUUL of the crypto industry. It broke all the rules knowingly, played all the stupid games on the bet that it could grow an incredible market share and would then pay a fine that would allow it to stay in business while continuing to benefit from this market share.
JUUL lost that bet in the US with the FDA. It got put out of business. We will see how that dice roll goes for Binance."
Charts
Q2 2023 had the lowest overall CEX traded volume since Q4 2020 ($1.6T). This is due in part to Binance rolling back no-fee trading- Binance's volume dropped ~70%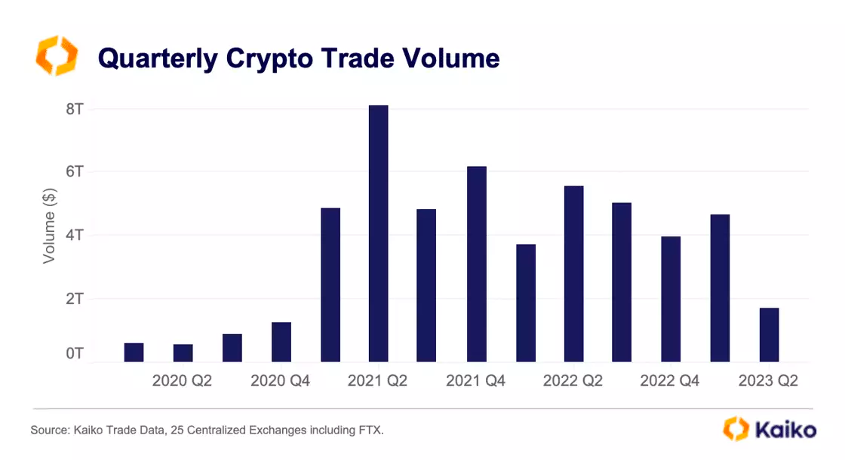 Binance still has a 52% spot market share, although it is down from 63% volume dominance in January '23. Bybit, Coinbase and OKX have each won pieces of their market share.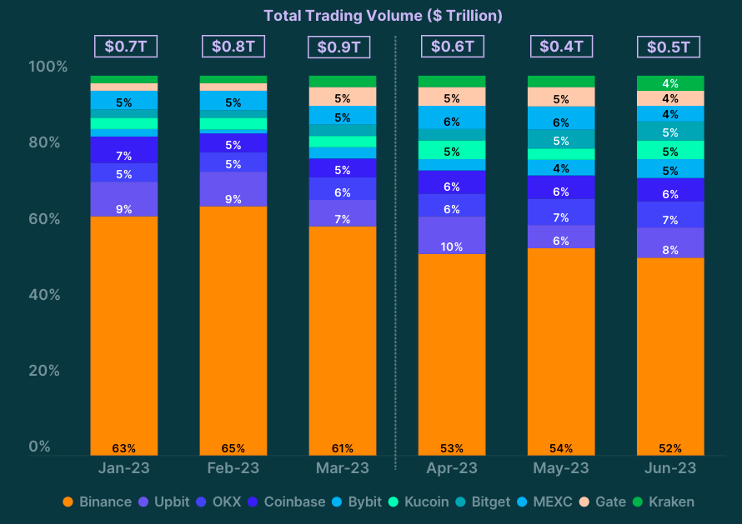 Binance (53%), OKX (15%), Bybit (12%) and Bitget (12%) make up >90% of perpetual derivatives volume. Overall derivatives volume is up slightly since the beginning of the year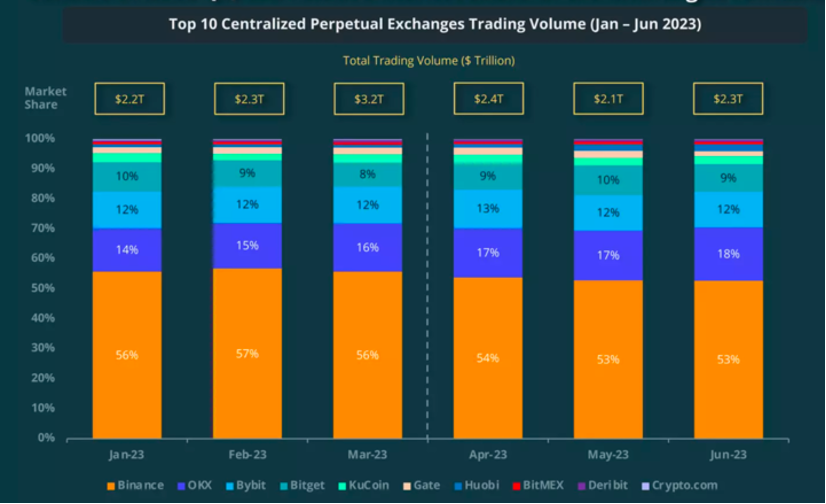 Many of the largest startups in crypto have failed to raise capital at an increased valuation since last year. Take a look at some recent secondary market offers for shares in popular venture-backed projects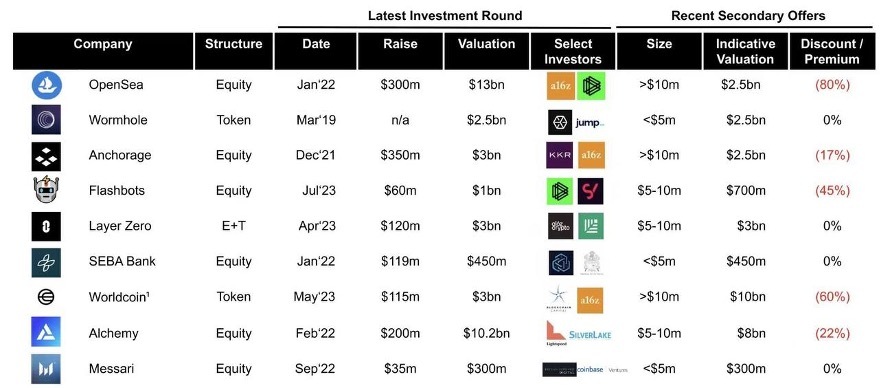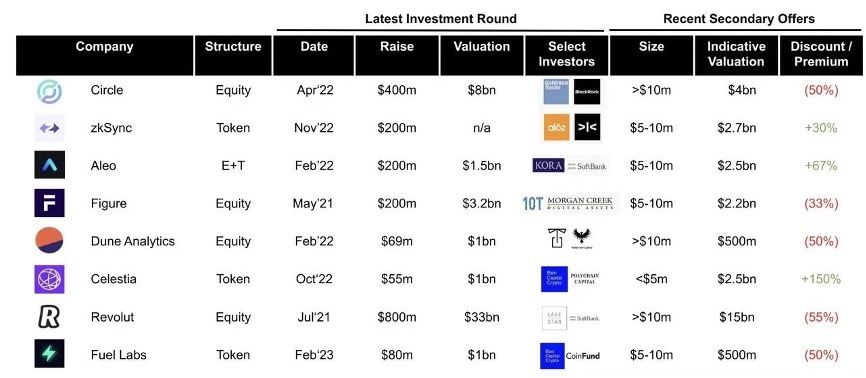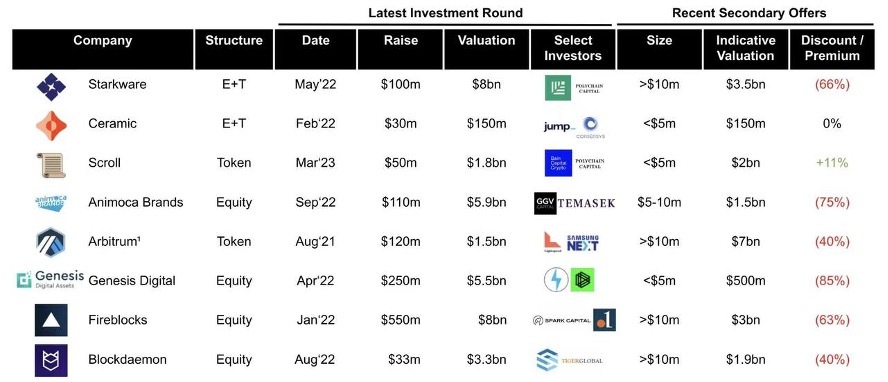 Research Content
Disclaimer: AscendEX and its affiliates do not provide financial, legal, tax or accounting advice. This material has been prepared for informational purposes only, and is not intended to provide, and should not be relied on for, financial, legal, tax or accounting advice. This does not constitute an offer to issue or sell, or a solicitation of an offer to subscribe, buy, or acquire an interest in, any securities, financial instruments or other services, nor does it constitute a financial promotion, investment advice or an inducement or incitement to participate in any product, offering or investment. You should consult your own financial, legal, tax and accounting advisors before engaging in any transaction.
This material is not intended for distribution to, or use by, any person or entity in any jurisdiction or country where such distribution or use would be contrary to law or regulation, or which would subject AscendEX to any registration requirement within such jurisdiction or country. Information provided by AscendEX and other sources in this material is believed to be accurate and reliable when placed in the material, but we cannot guarantee it is accurate or complete or current at all times.